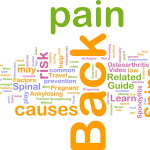 Tips to Prevent Back Pain
Some back pain is caused by non-preventable factors (traumatic accidents, congenital defects,
tumors), but the majority of low back pain is preventable.
Suggestions on how you can prevent back pain include:
• Maintain a healthy diet and weight.
• Remain active.
• Avoid prolonged inactivity or bed rest.
• Warm up or stretch before exercising or other physical activities.
• Maintain proper posture.
• Wear comfortable, low-heeled shoes.
• Sleep on a mattress of medium firmness to minimize any curve in your spine.
• Lift with your knees, keep the object close to your body, and do not twist when lifting.
• Quit smoking. Smoking impairs blood flow, resulting in oxygen and nutrient deprivation
to spinal tissues.
• Work with your doctor of chiropractic to ensure that your workstation is ergonomically
correct.
Visit your Chiropractor on a regular basis to keep in proper alignment and ensure that you are performing your best!